"Finally found the great item thanks coolizz, the scratch protectors are a game-changer for my furniture, and my cat can't get enough of the comfy bed. Definitely coming back for more!" - Michelle S*
Regular price
$53.95
Sale price
$29.95
Unit price
per
Sale
Sold out
157 Items sold in last 24 hours.
Free Shipping

30-Day Money Back Guarantee

%100 Secure Payment with Paypal
 Tired of Your Cat Destroying Your Furniture? 
Cats are creatures of habit once they get their paws on something it's hard for them to let go and all that scratching can cause a lot of damage to furniture, doors & carpeting.
This can end up costing you a lot of money. In the past, all you could was pray it wasn't expensive.

Now with coolizz™, you can train them not to scratch your furniture, and the best part is you just place it where they like to scratch then they immediately get the message that they are not supposed to scratch there.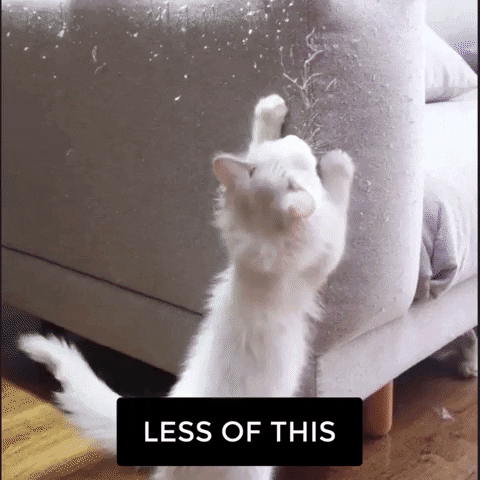 Why? Because the coolizz™ is designed to be an unpleasant and unsatisfactory surface to touch for cats making the perfect deterrent that tells them not to scratch it again plus they are also scratch resistant.
Once your cats have gotten the idea, you can easily remove the protectors.
Declawing is Never The Answer!
Scratching is a normal cat behavior. It isn't done to destroy your favorite chair or to get even. Cats scratch to remove the dead husks from their claws, mark territory, and stretch their muscles.
Removing claws changes the way a cat's foot meets the ground and can cause a lot of pain and discomfort. There can also be a regrowth of improperly removed claws, nerve damage, and bone spurs.
Protect Your Furniture & Keep Your Cat's Claws Safe! 
 Super Easy To Install
Installing our coolizz protector is super easy! In less than 5 minutes, you'll have them in place and protecting your furniture.
Just peel off the sticky covering, apply them to your cat's favorite scratching spots, and for added stability, use the included tacks. It's quick, hassle-free, and your furniture will thank you!

Heavy Duty Scratch Resistance Material
Protect your furniture with confidence using coolizz protector! Our scratch-resistant deterrent is made with thick, non-toxic vinyl that creates a strong barrier against your cat's claws.
Say goodbye to shredded upholstery and hello to intact furniture. With coolizz protector, you can keep your beloved pieces safe and scratch-free. Trust in the power of our innovative solution to keep your furniture looking pristine.
Trains Your Cat Where To Scatch
Take control of your cat's scratching habits with coolizz protector! Simply apply our premium protectors to the areas your cat loves to scratch the most. The texture and deterrent properties of coolizz protector will send a clear message to your furry friend.
They'll quickly learn where they can and cannot scratch, saving your furniture from their sharp claws. Train your pet with ease and enjoy a harmonious home with coolizz protector by your side.
Stop The Constant Stress and Worry
No more anxiously watching your cats, fearing they'll ruin your prized furniture. With our reliable protectors in place, you can relax and enjoy peace of mind.
Let go of the stress and embrace a worry-free environment. Trust in coolizz to safeguard your furniture and create a stress-free space for both you and your feline companions.
Experience The Magic of Invisible Protection
Our innovative solution offers clever and inconspicuous protection for your furniture. You no longer have to sacrifice the original aesthetic of your beloved pieces.

With coolizz protector, you can maintain the beauty of your furniture while ensuring it remains safe from your pets' scratching. It's the perfect blend of functionality and style.
Enjoy invisible protection and the best of both worlds with coolizz.
Apply Anywhere
Versatility at its finest! With coolizz, you can apply our protectors on a wide range of materials, including suede, leather, stained wood, fabric couches, and varnished doors. No matter where your cat's scratching tendencies lead them, felineShield has got you covered.
And the best part? You can remove them easily without worrying about messy residues or damaging your precious furniture pieces. It's convenience and peace of mind, all in one.
Extends The Lifespan of Your Furniture
Our reliable protectors keep your furniture in perfect condition, allowing you to enjoy it for much longer. Say goodbye to premature wear and tear caused by your cat's scratching habits.
With coolizz protector, you can preserve the beauty and integrity of your furniture, making it last for years to come. Invest in the longevity of your favorite pieces and create a home filled with cherished furniture, thanks to coolizz protector.

A Reusable, Cost-Effective & Eco-Friendly Solution

Experience the convenience of reusability with coolizz protector!
When your cat stops using a particular spot,
simply remove the protector and reapply it as needed.
Our protectors are designed to be reusable, allowing you to
adapt to your cat's changing scratching habits.
With coolizz protector, you can reuse and reapply with ease, ensuring continuous protection for your furniture. It's a cost-effective and eco-friendly solution for a harmonious home. Embrace the versatility of coolizz protector and enjoy long-lasting protection for your furniture.
Use coolizz™ Protectors for easy and unnoticeable protection today!  
They come in (12x18inches / 30x45cm) sheets that can be cut down to size and reused all around your house.
 Take advantage of our
30-Day Money-Back Guarantee
and try our
 coolizz™
Cat Scratch Protectors
and
save even more today!
Due to high demand, we are officially running low on this product.
Click the "ADD TO CART" button to place your order while supplies last!
If you aren't in LOVE with your purchase, just let us know within 30 days and you will receive a stress-free refund.
Share
View full details